ABOUT::

StandUp Paddle Sports is the first fully dedicated standup paddleboard store in the America's...the original SUP company (Est. 2005)...
Our parent company, SurfingSports (Est. 1999), saw and experienced the potential for this new surfing sport in 2003...since then, we have helped to pioneer what has become the fastest growing sport in the world...we have been ahead of the SUP curve since the beginning...and, continue to lead with our innovative and time tested designs, with fire in our belly, the relentless pursuit of perfection continues to push us forward...mahalos for coming along on the ride...

The SUP Sports lineup of carbon and wood boards, paddles, fins, and accessories that we manufacture are all designed and tested by us here in Santa Barbara...and, beyond...in water all over this planet...

We have become known as producing the benchmark for SUP quality, innovation, and VALUE...we offer the best bang for the buck on the PLANET...but, this success didn't happen overnight...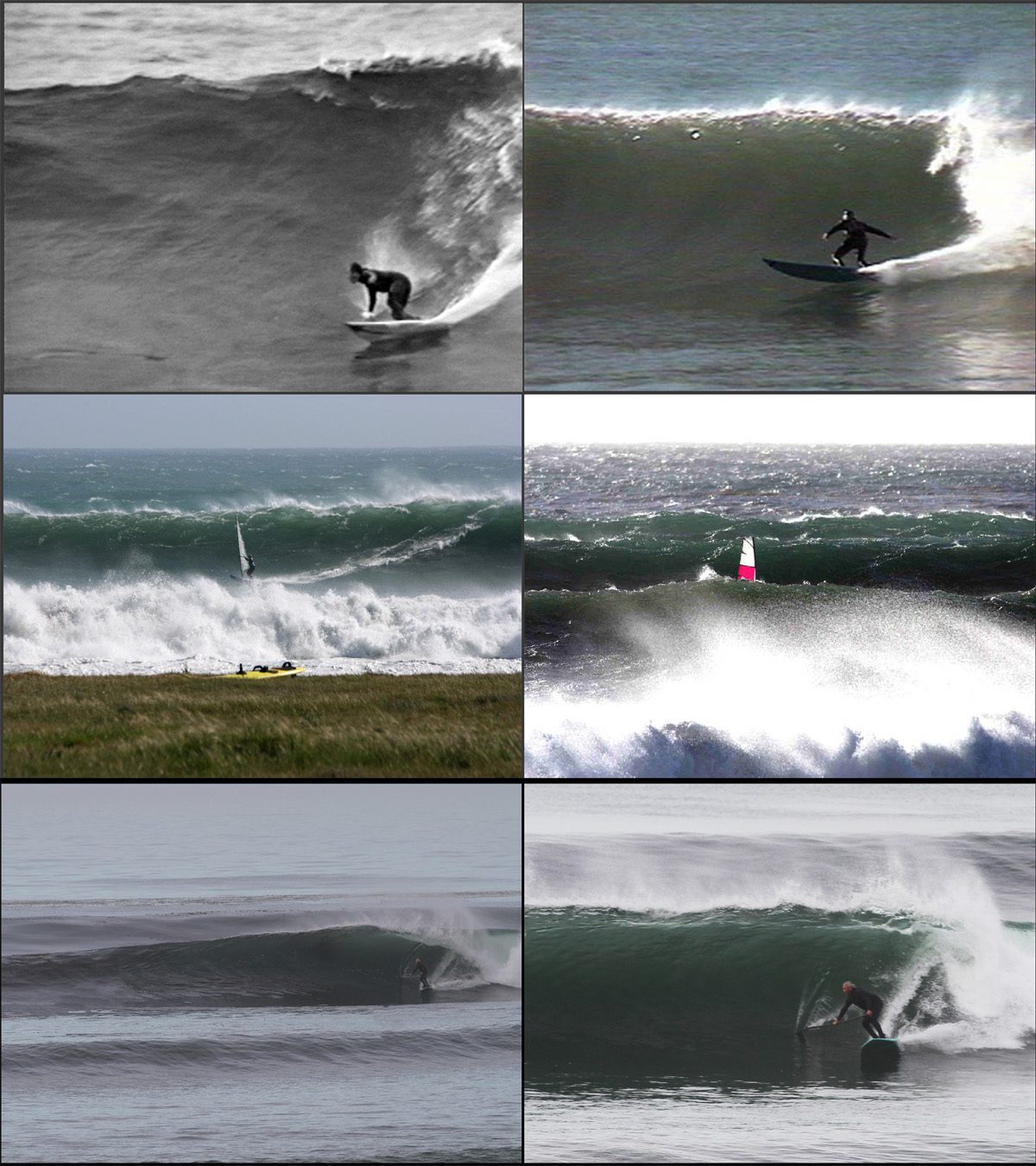 WARDOG ® product testing grounds...


Our board design supplement and catalog is out in print...available throughout our distributor network... We want to first thank the thousands of folks who have purchased their first SUP from us starting in 2005...and, lots of other surfing gear all through the 90's...it's been more like inspiring a movement than just operating a retail shop...we're proud to say that most of our Stoked For Life ® clients have returned to buy again...and again...also referring their friends, family, and co-workers...we couldn't have done it without you guys...we built our business from the ground up...it's been a lot of blood, sweat and tears getting it to this point...no trust funds...no rich silent investors...just pure old fashioned hard work and your support, of course...the biggest measure of our success is your stoke and return patronage...with your help we will continue to keep the stoke going...BIG MAHALOS...

Our core values are based upon honesty, respect, & integrity...we will always strive to treat you the way that we would like to be treated...every client relationship is very important to us...

We are all about authenticity...real paddlers that paddle real boards...no posers...no big box BS...we paddle the same gear that we manufacture...

We know that you will find that standup paddling adds meaning and joy to your life.
We are committed to providing the best standup paddleboards and gear in the world to you, our fellow paddlers...our shop has the friendliest people who work here and you will always find a nice mellow vibe and aloha...we are always willing to help you out even if you are not buying...you will find the right mix of product and great customer service...we are committed to providing a good shopping experience with personalized experience. Bring your dog...we're dog friendly...we have a dog bowl at our front and back doors...our staff is stoked...knowledgeable...polite...helpful...patient...and, respectful whether you are a paddler or not...everyone was a beginner at one point...;-)

STORY::

Our journey to where we are today, started in the 70's with surfing skateboarding & long hair...funny those things are still in style 4 decades later...;-)





WD entering the inside race track at an empty point break deep in Mexico...

Adding windsurfing to the mix in the 80's while in college, which is where our founders met while running through the Redwood lined trails behind the campus...




Wardog and Deb(Dog...;-), started their first company,Moondawg Productions, to represent an extensive stock of high quality photographs and high resolution video documenting their passion of all things surfing...they were also deeply involved in product development as designers and testers...Wardog's product input was sought out by a number of leading industry manufacturers as his testing ground was Jalama Beach, one of the most powerful waves on the west coast of North America...our WARDOG fin line was developed through the 90's...with the advent of the internet, www.moondawgz.com was launched to offer the fins online to people throughout the world...it incorporated lots of photos and streaming video clips...in fact, our founders launched one of the first surfing eCommerce websites and were also pioneers in online video streaming...way before "You Tube" was a household name...

As the 90's drew to a close and the new millenium neared, a new company, Surfing Sports, was formed to handle the rapidly emerging eCommerce option of retail sales...after incorporating in early 2000, a website at our current address www.SurfingSports.com was launched...it's been over 13 years now and we're still going strong...recognized as an industry leader and innovator...we've been ahead of the curve, despite being copied repeatedly and our intellectual property swiped by dozens of copy cat imitators...thanks guys...we don't need any more flattery...;-)

DON'T JUST TALK ABOUT IT...BE ABOUT IT!




Since starting to standup and paddle on a board in 2003...(our first standup paddle board) we have been in the forefront of the emerging sport and lifestyle of standup paddling...

In fact, we registered the domain www.standuppaddlesurfing.com on October 21, 2005 before the sport was even referred to as "standup paddle surfing"...

In the last year, or two...there has been an on-slaught of "gold rush" mentality, trust funded, individuals with "corporate think", that haven't even stepped foot on a SUP, knocking off board and paddle designs and having them cheaply duplicated overseas with inferior materials and construction techniques...this is also happening with other intellectual property that modern SUP pioneers such as ourselves, along with our contemporaries, spent a lot of time designing and testing...including my fin designs...not to mention cybersquatters and the trademark infringements...scroll to bottom of the page for a partial list of domains under our control...

We know that you have choices...for those of you that choose us, we pledge that we'll work as hard as we can to ensure your customer satisfaction...

We are a mom and pop business, family owned and operated by the hardest working, dedicated , and stoked waterpeople that you will ever meet...we are committed to keeping the STOKE level high and our overhead low...think corner hardware store battling "big box" corporations and trust funders...

We've been immersed in surfing culture for over 4 decades and have been in business designing and selling boards for over 20 years...thousands sold to date...
We know what works...why it works...what doesn't...and, why you deserve a proven board design and accessories manufactured with Q U A L I T Y materials and construction techniques at a FAIR PRICE...

Our product line is unsurpassed in QUALITY…PERFORMANCE…VALUE…click image below for more info...




A quality board will last a lifetime...you'll also get a higher resale value if/when you decide to pass it along...in fact, garages across America are full of cheap POS, no name, windsurf boards, "poly-whales", collecting dust, that were manufactured during the peak of that sport in the late 80's / early 90's...you can't give them away...and, they can't be recycled...please, don't fall into that trap...

This isn't our first rodeo...working with master shaper/waterman Sean Ordonez, we designed and produced the first epoxy, high quality, durable, lightweight, molded sandwich production SUP's in the world...the boards that started it all...surfboard glassing factories weren't big enough to handle standup paddle boards...these were the hall of fame SOS SUP's, "Big Red" and "Big Blue"...that was over 7 years ago...light years in SUP time...



Master craftsman/waterman, Sean Ordonez...hand built Santa Barbara SUP prototypes...homegrown soul...



We were the first fully dedicated SUP storefront in North or South America...

We were also the first SUP company to install mast tracks on their SUP boards for a windsurf option...we've been ahead of the SUP curve the whole way...and, we're the still the leader...regardless of the trust funded, gold rush mentality, copycat efforts...a couple of streets away...and, in the aisles of the big box COSTMART next to mountains of paper towels...and, all across the planet...

Our new board and accessory line offers you the best bang for the buck...we know what works!




The first step in buying a standup paddle board and paddle is to CHOOSE A LEGITIMATE SUP STORE...you know, one with a REAL PHYSICAL STOREFRONT ADDRESS... staffed by REAL STANDUP PADDLERS...

Welcome to the real dealio...

Check our standup paddle (SUP) images galleries...we're not like the plethora of online SUP stores cropping up everywhere on the web these days, built by pimple faced teenagers, and college undergrads, on a laptop as a class project with WYSIWYG canned software and using small cartoon-like board images...or, some guy with a mid-life crisis needing a 2nd income, or gear at cost, so he throws up a blog focusing on the mundane and boring events in his life...or, the many trust funder, sitcom "Housewives of Orange County" SUP posers...yawn...time to change the channel...;-)

REAL SUP businesses contribute to the community by hiring people, paying city and state taxes, contributing to fund raisers and enviromental causes...hosting free learn to SUP demos (we taught over 700 people last year, over 3000 to date), organizing and hosting SUP races, and providing superior customer service...we've been doing it for years and years...not weeks or months...

READ OUR CUSTOMER TESTIMONIALS... we take great pride in our customer service...we offer the highest quality products at the most competitive pricing and staff our store with the most knowledgeable staff to ensure that you always receive a pleasurable shopping experience...

You can drive to our store or call during normal business hours...10 AM - 5 PM seven days/week...or, email us 24/7...we make our living the old-fashioned way...by earning it...WE'RE HERE TO HELP!

Don't live within driving distance to us or a legitimate SUP store?...no worries...
We ship all over the world...our shipping department is the best in the business...all boards are double boxed at no extra cost...



We're keeping the STOKE level high and the overhead low...as America's # 1 standup paddle board store, we're shipping your paddleboard direct from our paddlesurf warehouse, to you wherever you are in this great land surrounded by water...

We've taught over 700 people how to standup paddle in Santa Barbara last year on our fleet of SUP's, for free, with our extremely popular "try before you buy" program usually scheduled the first Sunday of the month, March through December...other people prefer our more personalized year-round private individual, or group lessons, with some lesson costs being refunded towards the purchase of board and paddle...



It's a fact...we have more boards...the best selection...the best construction...best value...and, most importantly, the best service of ANY shop selling SUP's on this planet...

In our shop you won't get the "too cool for school"...with the kewl guy attitude dood on the phone, while you tap your feet waiting to make eye contact with him to spend YOUR hard earned recreational dollars...the "Golden Rule" is in effect at our shop...simply treat others how you would like to be treated...your STOKE is guaranteed...we want to keep you stoked...that's our passion.

We have cherry picked all of the SUP products in our shop...you won't find CHEAP split rail, fin box blowout, ding magnet SUP seconds...we'll let the johnny come lately, amateur SUP wannabes selling cheap KNOCKOFFS handle that...;-)

You don't have time or money to waste and neither do we...you get the most value out of your gear investment dollar by getting the RIGHT STUFF the first time...because we are the volume leader, we never have boards sitting in a corner collecting dust with an inexperienced salesperson waiting for the unsuspecting newbie to unload them on...

PLEASE SHOP THE OTHER GUYS FIRST...we encourage it...it helps our business...simple as that...

We don't sell or promote products that haven't proven themselves to us in critical conditions when it counts. We have partnered with product manufacturers that are as passionate about their surfing sports as you are...and, about Q U A L I T Y...attention to detail and striving for excellence...

Of course, ALL of our SUP's come with with recessed handles...and, at a minimum you get a free leash and shwag bag with your purchase...we have lots of kewl SUPsports branded shwag, like paddle covers...paddle bags...rack pads...tshirts...hats...etc...

Alrighty then...now that you know you are at the right place to get that SUP board and paddle package for yourself and/or family, let's chat a bit about the gear...

I've been a gear head my whole life...always putting demands on the gear and figuring out ways to make it 'mo bettah...after learning to windsurf and then wavesail during the 80's, at some of the most challenging spots in the world, we quickly learned that our gear had to improve to withstand the forces and stress that we were putting it under...like taking the boards over 30mph and then launching 20'-30' in the air off of a wave and landing HARD!!!...we developed durable and lightweight epoxy boards...years and years before the Clark Foam factory closure forced surfboard makers to start trying to learn epoxy board technology...

I put my science and engineering background to work in the high performance windsurfing industry helping to improve the durability and performance of the products...including launching my own fin designs...

We have cherry picked the best SUP gear on the market...best value and best performance...then we add the best customer service to the mix...that's why we're AMERICA'S #1 PADDLE BOARD SHOP...

WHY STANDUP PADDLE?

The number one reason is because it's F U N !!!



Standup paddling is easy to do for people of all shapes, sizes, and abilities...something the whole family can do...ANYWHERE THAT THERE IS WATER...we SUP on lakes, rivers, oceans, and bays...it's a fun no-impact sport that rewards you physically, mentally, and emotionally by getting you outdoors and recreating...something your $1500 investment in the stock market or gym club membership prolly won't do...it's the gift that keeps giving...it's paid for itself after the first session...



NO WIND...NO WAVES...NO WORRIES... LAKE SUP



Initially, women's balance is better than men's, so they will progress faster...almost everyone has an epiphany after 3-4 sessions...and, are able to start taking more power in their stroke and experiencing the addictive exhilaration of gliding across the water...

SUP is a great workout for the whole body...especially, core muscles...
I was the first to coin the phrase for SUP as "yoga on water"...there is definitely a Zen quality to it...seems that many people agree with me...especially, webmasters putting their knockoff SUP websites together...;-)

In these hectic stress-filled days of trying to keep a job and raise a family, a SUP session maximizes your workout in a minimum amount of time...it's pretty simple...

GRAB BOARD AND PADDLE...GET TO THE NEAREST WATERHOLE...STAND ON BOARD AND PADDLE...GO HOME HAPPY, HEALTHY , & RELAXED...

Still not convinced? READ THIS

BOARD AND PADDLE SELECTION::

Alrighty then...now that you're all fired up and ready to do this thing...let's talk a bit about the nuts and bolts of your board and paddle purchase...

The number #1 criteria in picking a standup paddle board (SUP) should be STABILITY...
The sport is called STANDUP...not STANDUP/FALLOFF...;-)
There is no "one size fits all rule" in SUP...body weight is proportional to board volume required...
We customize your board and paddle package specifically for you and your paddling venue...from flatwater cruising...to waves...to racing...we're involved in ALL aspects of the sport...

Check out our Mahalo & One World models for an example of the best bang for the buck, all around SUP cruisers on the planet...

We've successfully matched thousands of people to the right boards and paddles...the FIRST time...

Secondly, as previously discussed...you should focus on DURABILITY...
We've taken that guesswork out of the equation by the boards that we have chosen to represent by manufacturing our own line of boutique boards...

Boards are not created equally...QUALITY matters...

These boards are expensive...we want our clients to paddle worry free without having to fix dings after every session...you don't want a board that looks like a woodpecker has pecked it to death with paddle strikes after a few weeks...as a novice paddler, you WILL strike the board until your paddle stroke improves...there is a huge differential in quality between boards...you definitely can't judge a board by it's shiny paint job...remember the old adage...you get what you pay for...

YOU BUY CHEAP...YOU GET CHEAP!

We size paddles (shaft length and blade size) depending on height, body weight, shoulder health, fitness level, application and use...etc...

The paddle is as important as the board...so again, after working with the top paddle makers in the world, we decided to manufacture our own line...to give you the best bang for your buck...our paddles are at least $100 less than equivalent quality paddles on the market...beware of cheap throw-aways included as part of SUP packages from cheap online vendors...you can, and probably will, end up with shoulder and/or elbow problems with inferior paddles...we also include free paddle guards for paddles purchased with our customized SUP packages...

We standup paddle daily and have the most experienced, dedicated, and stoked staff on the planet standing by to help you through the virtual maze of options available...

Please call toll free (888)805-9978 for a consultation...we'll ask you a few questions and more than likely get your SUP package shipped, and heading in your direction, the day of the order...we have the best and fastest shipping in the business...double boxing included at no cost...

When it's all boiled down, we're just STOKED to be a SUP toy store for big kids...;-)

DON'T JUST TALK ABOUT IT...BE ABOUT IT!

We've heard from a number of people that agree with our business ethos...perhaps you are one of them that has made it to the bottom of this page and are still reading...if you would like to discuss a mutually synergistic opportunity, we'd like to hear from you...please use the email link below to open further discussion(s)...

Below is a small sample list of a few of the over 250 domains that we have secured...

SUP Sports | Paddle Surfing | Beach Boy Surfing | SUP Surfing | Standup Paddle Surfing | Standup Paddle Boards | Standup Paddle Sports | Standup Paddling | Standupping | Standup Paddle Surf | Standup Paddle Surfer | Standup Paddle Boarding | Standup Sailboards | Standup Wavesailing | Standup Windsurfing | SUP Windsurfing | Longboard Windsurfing | Longboard Wavesailing | Longboard Surfsailing | SUP Boards |

www.PaddleRacing.com | www.StandupPaddleFitness.com | www.SUPfishing.com | www.SUPfish.com | www.SUPDepot.com | www.PaddleBoardFish.com | www.aerokor.com | www.extremesportcams.com | www.xtremesportcams.com | www.xtremecamz.com | www.calisup.com | www.supbaja.com | www.bajasup.com | www.PaddleSantaBarbara.com | www.PaddleSurfSantaBarbara.com | www.PaddleSurfSB.com | www.PaddleSB.com | www.SBPaddleSurf.com |www.sbsup.com | www.supsb.com